MODO Bass
MODO Bass - The first physically modeled electric bass

MODO BASS® is the first physically modeled bass virtual instrument that gives you an unprecedented realistic performance for your bass tracks.
You want realism, credibility and authenticity that delivers the most accurate and inspiring performance!
MODO BASS — the industry's first true physically modeled instrument from the leader in analog modeling technology. 8 years in the making and developed in collaboration with one of Europe's oldest universities, MODO BASS is a completely new breed of instrument that delivers the best of both worlds: the realism and sound of an instrument being played by a master musician and the convenience of a plug-in virtual instrument.
Real Time Sound Synthesis
Unlike traditional sample-based virtual instruments, MODO BASS utilizes a breakthrough technology to breathe life into bass tracks. Unlike traditional sample-based virtual instruments, MODO BASS utilizes modal synthesis technology and an ultra-optimized sound engine to model each string as a nonlinear resonator.
The Details
MODO BASS is a complete synthesis of bass playing and as such it lets you adjust and select virtually every aspect of bass playing. This means that MODO BASS can give you a limitless variety of bass sounds because, just like a real bass player, it gives you a different performance every time. With MODO BASS, you take unprecedented control of every aspect and control of a performance.
Model
MODO BASS gives you 12 iconic basses that span the history of music — 12 basses that define virtually every style and every genre of music recorded with an electric bass.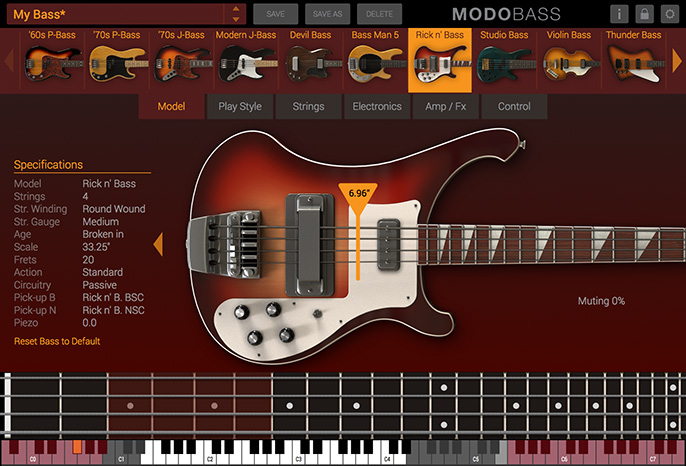 Each bass model was chosen for its particular timbre and wood tone, and every detail of the instrument's performance has been meticulously modeled and recreated.
Customize your Bass
Since MODO BASS synthesizes sound in real time, you can modify your instrument and playing approach to get completely unique sounds. In fact, there are so many customization options available that there's really no bass sound that you can't get — the configuration and tone possibilities are virtually limitless. Once you've selected the bass you want to use, it's time to get to work customizing your instrument to fit your music.
Amp / FX
With MODO BASS, you have full control over the signal path and get 7 bass effect stomp box effects and two classic bass amplifiers. Choose from an Octaver, Distortion, Chorus, Compressor, Delay, Envelope Filter or Graphic EQ. Each stomp box has been derived from the world-class models in AmpliTube Custom Shop. Each stomp effect gives you full control over the effect applied to the signal, parameter adjustment and overall output volume into the next effect. Using IK's advanced non-linear modeling technology, the pedalboard not only provides ultra accurate modeling of the desired effect, but also models the interactions of the effects in the chain on each other effect in the chain and gives you real-world performance and a realism simply not found in other software instruments.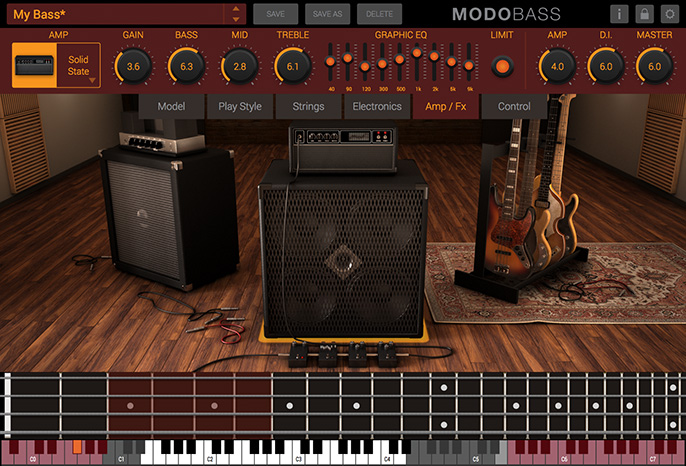 Choose from a classic all-tube amplifier and 1x15 cab, or you can choose a powerhouse solid-state model with a 4x10 cab. Each amp gives you full control over gain structure, EQ (with mid-frequency adjustment on the tube amp), and additional fine-tuning options with a graphic EQ. There is also a global bypass feature that allows you to route the bass signal from MODO BASS into another amp effects modeling suite like AmpliTube Custom Shop, where there's a whole new world of sonic options available for bass tone shaping and effects waiting for you.
Keyswitching in MODO BASS allows you to switch on the fly between chord mode and note mode, the type of stroke used playing, which fingers are used, and which method of playing is used giving you the ability to completely customize the sound in real time.
Plus, using your DAW's automation you can control other parameters like where you play on the instrument while you perform. Moving the playing position while performing gives you a complete ever-changing realistic performance that has never before been realized in a virtual instrument.
Features
The first physically modeled electric bass virtual instrument
Groundbreaking real-time modal synthesis technology — no samples used to create sound
Recreate virtually every electric bass sound imaginable
12 iconic bass models that span the history of recorded electric bass
Models the entire act of playing an electric bass – player, instrument, FX & amp
Ultra-small memory footprint
Choose playing style — pluck, slap and pick
Freely move the playing hand for realistic performance
Customize string force, fingers used, pick thickness & technique
Customize string number, scale, tuning, gauge, construction, action, age
20 faithfully recreated, interchangeable iconic bass pickups with volume
Choose active or passive electronics with parametric EQ
Under-bridge piezo pickup with blend
7 bass stomp box effects configurable in 4-slot chain
2 iconic bass amps – Solid State and Tube derived from AmpliTube
FX and amp global bypass for routing
Optimized resizable interface
Works as a 64-bit plug-in or standalone instrument for Mac/PC
Full MIDI control with MIDI learn, keyswitches
Full DAW automation control support
MODO BASS Video Overview
MODO BASS Special Sale!
Save up to $100 off the breakthrough physically modeled electric bass virtual instrument for Mac/PC